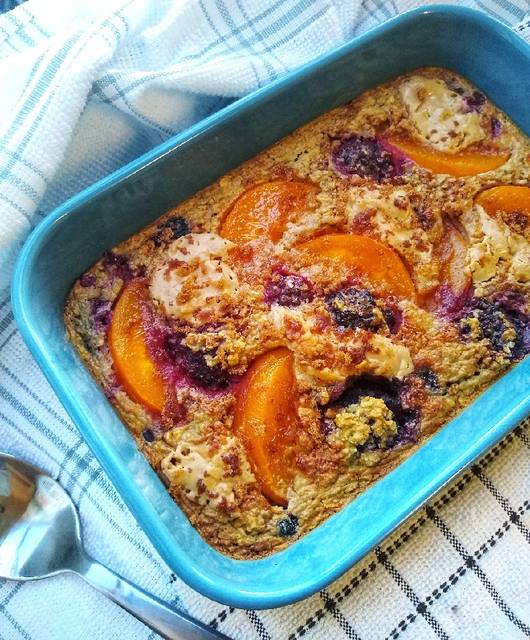 100-120 ml unsweetened almond milk, (or regular milk),
1/2 tsp vanilla essence, or calorie free flav drops,
60 g mixed berries, (I used frozen),
60 g peach slices, (6-7 pieces),
Some syrup from the peaches,
1 tbsp smooth peanut butter
1 tsp soft dark brown sugar,
1 level tsp baking powder
1- Preheat the oven to 180 (fan). In a bowl combine the oats and baking powder. Add in the beaten egg, a dash of the milk vanilla essence plus a dash of the syrup from the peaches and combine until incorporated. Add the rest of the milk bit by bit until a not too thick/runny consistency is a achieved, do this by eye until you're satisfied.
2- Add in the mixed berries and combine. Add the mixture into the baking dish. Spread out evenly. Decorate with the peach slices on top and also add the peanut butter by spooning little clumps of it evenly between the peach slices.
3- Sprinkle over the brown sugar. Place the dish onto a baking tray, to catch any potential spillages, and bake for 35-40 minutes. Remove from the oven and allow to cool for a couple of minutes. Garnish with a little more brown sugar. Serve up and enjoy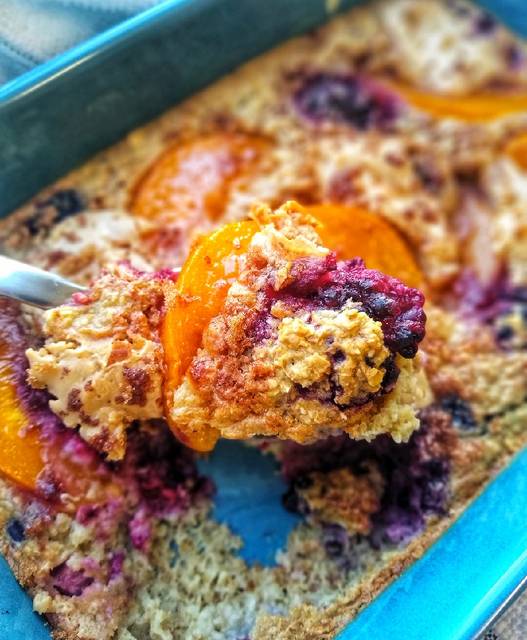 4- Note: Try serving up with a couple of spoonfuls of cool thick Greek style yogurt on top. Delicious!